Day 3 - 2008 National Safety Rest Area Conference
The first day of the conference was shared with MISA with an emphasis on providing traveler information and promoting tourism at SRAs and Welcome Centers. This is the first SRA Conference to join efforts with another organization with similar interests to improve services provided to the traveling public.
Begin
End
Activity
7:30
8:30
Breakfast
8:30
9:00

Balancing Past and Present – History of SRAs (pdf 755 kb)
View Balancing Past and Present Handout (pdf 2 mb)
Joanna Dowling
Historian
Historical Research and Consulting

9:00
9:45
Art in Building Design (pdf 41 mb - very large file)
David B. Dahlquist
Partner
RDG Dahlquist Art Studios
9:45
10:15
Statutory Regulations (pdf 138 kb)
Dave Leighow
Realty Specialist
Federal Highways Administration
10:15
10:30
Morning Break
10:30
11:15

Truck Parking and Idle Reduction Technologies
Dale A. Tabat
Truck Freight Programs and Policy Manager
Washington State Department of Transportation
See Presentation (pdf 328 kb)

Stephen Beaulieu
Director, Government Affairs
National Association of Truck Stop Operators
See NATSO Logo (pdf 106 kb)

Jeff Kim
Chief Operating Officer
Shorepower Technologies
See Presentation (pdf 1.2 mb)

11:15
12:00
Sustainability and Constructing LEED Compliant Restrooms (pdf 1.5 mb)
Ryan Smith
National Sales Manager
Romtec, Inc.
12:00
1:00
Lunch
1:00
3:00

SRA Issues Workshop
The workshop was an interactive discussion with a panel of design and maintenance professionals who responded to various issues identified by the conference attendees.

Building Design Issues Panel
Jim Rodgers – Architect, WSDOT
David B. Dahlquist – Partner, RDG Dalquist Art Studios
Jim Shaw, PE – NW Region Facilities Engineer, WSDOT

Maintenance and Operational Issues Panel
Doug Pierce – SRA Operations Manager, WSDOT
Andy Keith, PE – SRA Program Director, TxDOT
Willie L. Webb – Maintenance Design Engineer, GDOT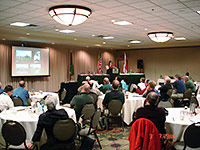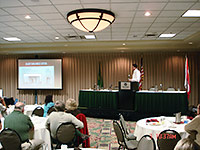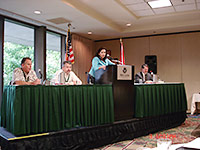 Conference Speakers
Joanna Dowling
Historical Research and Consulting
Chicago, IL 60610
www.restareahistory.org
joanna.dowling@gmail.com
Bio: Joanna Dowling is a consulting historian based in Chicago, Illinois. For the past several years her research has focused on the history and program development of Interstate safety rest areas. This research led to the formation of www.restareahistory.org, a web-based organization dedicated to the documentation and communication of SRA history and architecture. After completing her Master's degree in Historic Preservation at the School of the Art Institute of Chicago in 2007, she traveled throughout the U.S. documenting and writing about SRAs. You can find her latest piece, Safety on the Interstate, the Architecture of Rest Areas, in the spring 2008 issue of the Journal of the Society for Commercial Archeology.
David B. Dahlquist
Partner
RDG Dahlquist Art Studio
Des Moines, IA 50309
www.rdgusa.com
ddahlquist@rdgusa.com
Bio: David Dahlquist is a nationally recognized public artist and teacher. His commissions for private, public, and institutional clients range from tilework and sculpture to major architectural installations. Since 1988, he has completed more than 30 large-scale public commissions across the country. He received a Bachelor's degree in Art with honors from the University of Wisconsin, Madison, and a Master of Fine Arts degree from the New York State College of Ceramics at Alfred University, Alfred, New York. In 1983, he became the Artist-in-Residence at the Des Moines Art Center. David also served as an Assistant Professor in the Art and Design Department at ISU from 1987 to 1993. During that time, he developed a program in ceramics and sculpture, including a "hands-on" studio for architecture students. In 1994, David established Dahlquist Clayworks, Inc., which became a part of RDG Planning & Design in 2004. He now leads the RDG Dahlquist Art Studio, a comprehensive design and fabrication studio with a staff of eight professional artists. His work has evolved from an individual "object maker" to the integration of tilework and art into architecture and the landscape. He has specific recognition for "Art-In-Transportation" projects, combining the site research and documentation with the development of integrated art and aesthetic components.
Dave Leighow
Realty Specialist
Federal Highways Administration
Salem, OR 97301
david.leighow@fhwa.dot.gov
Bio: Dave Leighow began his career in Right-of-Way/Real Estate with the Florida DOT in 1973. In 15 years with FDOT, Dave served as State Relocation Administrator, State Outdoor Advertising Administrator, Assistant State ROW Administrator, and District ROW Administrator in Ft. Lauderdale. Dave began his first tour with FHWA as a Realty Specialist in the LA Division. Dave left FHWA briefly to become a project manager for Kaiser Engineers in Florida, and subsequently returned to FHWA in 1992 in the CA Division. Dave went to the WV Division in 1993 as the Environment/Civil Rights/Right-of-Way Team Leader, and in 1999 transferred out to the WA Division as the Realty Officer and the Safety, Planning and Environment Team Leader. In 2006 Dave left FHWA to become the Director of Planning and Program Development for FTA Region 10 in Seattle. Dave returned to FHWA in March 2008 and is now the Headquarters Point of Contact for the west coast Division Offices.
Dale A. Tabat
Truck Freight Programs and Policy Manager
Washington State Department of Transportation
Olympia, WA 98504
tabatd@wsdot.wa.gov
Bio: Dale A. Tabat was hired as the new Truck Program and Policy Manager. He will focus on integrating truck freight services within the department, truck parking, truck freight data, research and policy. Tabat will also serve as the division's liaison with the Washington Trucking Association and legislative staff. Tabat has an extensive career in the transportation sector, as well as legislative expertise developed as chair of the California Trucking Association's Kingpin Committee.
Stephen Beaulieu
Director, Government Affairs
National Association of Truck Stop Operators
Alexandria, VA 22314
sbeaulieu@natso.com
Bio: Stephen Beaulieu joined NATSO in February 2008 as Director, Government Affairs. In this capacity is responsible for representing NATSO before Congress and federal agencies on a range of issues affecting NATSO members, including surface transportation, energy, and federal tax policies. His prior experience includes working with the National Air Transportation Association as Manager, Legislative Affairs. He also has professional experience on Capitol Hill, with the U.S. House of Representatives Committee on Transportation and Infrastructure and the committee's Subcommittee on Aviation. He is a 2001 graduate of the University of North Carolina at Chapel Hill and is currently pursuing his MBA from Georgetown University's McDonough School of Business.
Jeff Kim
Chief Operating Officer
Shorepower Technologies
Hillsboro, OR 97123
jkim@shorepower.com
Ryan Smith
National Sales Manager
Romtec, Inc.
Roseburg, OR 97470
www.romtec.com
romtec5@romtec.com
Bio: Ryan Smith has more than 10 years of experience in the construction field, including positions as construction crew leader, sales manager, marketing director and corporate sales. He currently serves as National Sales Manager for Romtec Inc., which produces pre-engineered public restrooms, restroom/shower facilities, park shelters/pavilions, restroom/concession and multi-use buildings.