ABOUT SEATTLE

Seattle is renowned for its spectacular scenery and cultural diversity, and offers many possibilities for sightseeing and evening adventures. Here are several links to help you plan your activities:

Seattle 101 highlights numerous city offerings. Includes tips for navigating the city, maps, and numerous links to Seattle museums, galleries, and theaters.

Seattle.com
details Seattle tours, upcoming area sporting events, plus music and nightlife possibilities. Get lost in Seattle's historical places:
Tours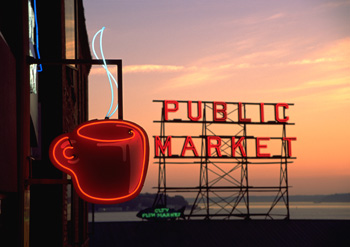 Pike Place Market
Month
Avg. High
Avg. Low
Avg. Precipitation*
Avg. Rain Days
Record High
Record Low

July

78° F

57° F

0.79 inches

7

105° F

2009

45° F

1949
* The annual precipitation in Seattle averages 36.2 inches per year. The weather can be rainy (but is usually just drizzly) on any given day even though historically July is one of the driest and warmest months. The average highs are in the upper 70s. The days are also long, and sunset (let alone twilight) is after 9 p.m. for weeks.
The main challenge of Seattle's weather is more the overcast skies than the rain. The morning could start with a damp fog that lifts by mid-day revealing the hot sun. Overall, the summer is very pleasant but there can still be a chill in the early morning or evening air. Check out statewide weather forecasts and Seattle area forecasts.