Tacoma Narrows Bridge history - Stories of the collapse & aftermath
People of the Collapse & Aftermath, 1940-1950
Reporters, photographers, engineers, and a dog—the characters who saw Galloping Gertie collapse, and the men who launched a new Narrows Bridge.
What's here?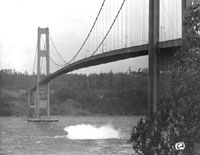 Howard Clifford (1912-2009)
"I've seen and done just about everything, it seems," says Howard Clifford.
The award-winning writer and photographer, was not exaggerating. Clifford led a richly varied and remarkable career over much of the last century.
But, the wealth of fascinating experiences that have colored Howard Clifford's life are all surpassed by one—the run for his life on the collapsing Tacoma Narrows Bridge, "Galloping Gertie," in November 1940.
His story began 28 years earlier. Born in 1912 in Wausau, Wisconsin, Howard Clifford (then known as "Howie") came west as a teenager when his parents moved to Tacoma in 1926. His life-long interests in sports and writing appeared early. Athletic and bright, Howie enjoyed playing football and writing stories for the Stadium High School newspaper.
After graduating in journalism from the College (now University) of Puget Sound, Clifford found work in 1935 at the Tacoma Ledger, which later became the News Tribune. There, his assignments covered everything from the "Women's Page" to sports. His growing interest in photography led to occasional work as back-up cameraman for the newspaper.
On the morning November 7, 1940 Clifford was in the Tribune office when word came that Galloping Gertie was in trouble. The newspaper dispatched Clifford as back-up cameraman along with veteran reporter Bert Brintnall. Clifford shot several photos of the bridge's last moments. By late afternoon, the spectacular images were sent across the country.
Howie Clifford went on to an extraordinary and highly successful career. Mostly he's been a journalist and photographer. But, his many talents and ambitions led him to a host of other activities.
Clifford has been a newspaper photo-journalist, commercial airline pilot, race car driver, sports announcer, film producer, public relations manager and consultant, law officer, United States Marine (serving during World War II in the Pacific), ski instructor, editor, publisher, and travel writer. He has photographed U. S. Presidents from Franklin D. Roosevelt to Bill Clinton. The proof is hanging on a wall in his home.
Clifford's publication credits include 8 books, as well as hundreds of articles and photographs. Many of those are the fruits of over twenty years living and traveling in Alaska and the Yukon.
Howard Clifford died in Kent on February 19, 2009 at the age of 96.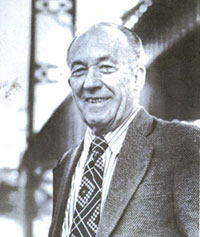 Read his fascinating experience of Galloping Gertie's collapse
James Bashford (1887-1949)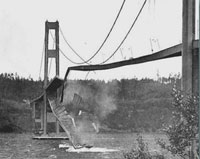 Professional photographer James (Jim) Bashford gets credit for snapping the most famous photograph of Galloping Gertie's spectacular collapse.
On the morning of November 7, 1940 Bashford got news that the bridge was behaving wildly and rushed to the Narrows. He shot various photos of the twisting bridge and the first splash of debris hitting the water. Then, from the south shore at the east end of the bridge he captured the amazing image of the center span's collapse that has been seen around the world. That photograph continues to be the most frequently reproduced image of the disaster.
Bashford was born on March 19, 1877 in Boscobel, Wisconsin. His family moved to Tacoma from Iowa when Jim was just two years old. He spent the rest of his life in the city. He watched it grow from a pioneer village to a major metropolis, and he recorded important milestones for the town along the way.
In the 1890s young Bashford worked on steamboats plying the waters from Puget Sound to Alaska. Soon, he found himself launched on what became a long career in local newspapers, including the Tacoma Ledger, the Seattle Times, the Tacoma News, the Tacoma Times, and the Tacoma Tribune.
From 1939 to mid-1940 Bashford worked for Thompson Photo Service, which the Washington State Toll Bridge Authority hired to document construction of the first Narrows Bridge. Bashford snapped over 400 photographs of the bridge's construction. He also did free-lance photography for Tacoma newspapers.
Bashford told many of his experiences with Galloping Gertie to his daughter, Ann. One anecdote has become a vital part of the bridge's lore--how when workmen who were building the forms on Gertie's deck had to suck lemons to combat nausea because the span rippled and bounced.
Jim Bashford died in Tacoma on July 3, 1949 at the age of 72.
In 1998 Bashford's daughter and grandson donated his 4x5 Graflex RB-D camera, plus a complete set of the Bashford-Thompson photographs, and the original negative for his famous photo of Galloping Gertie's collapse to the Gig Harbor Peninsula Historical Society.
Leonard Coatsworth & Tubby
A news editor for the Tacoma News Tribune, Leonard Coatsworth had a reputation as a very nice man. On November 7, 1940, Coatsworth was a slightly balding man in his forties. Typically, he wore a hat and wire-rimmed glasses.
The Tribune hailed Coatsworth as "Last Man on the Bridge," when they published his escape from the failing bridge. Wire services around the country picked up the story. Coatsworth became an instant celebrity. Soon, he traveled to New York for radio, newspaper, and magazine interviews.
These days, Coatsworth's car and the dog Tubby are as well known as they were then.
Read his fascinating experience of Galloping Gertie's collapse
Hallett R. French
The news of Galloping Gertie's demise on November 7, 1940 startled Hallett R. French. The 45-year old Seattle-based insurance agent for Merchants' Fire Assurance Company of New York, had written a $800,000 policy on the bridge for the State. French believed there was no chance of the bridge collapsing. So, being a rather inept criminal, French deposited the $8,000 in premiums in his bank account without reporting the transaction to his firm. He was vacationing in Idaho when he got word on November 8 that all was not right at the Narrows.
On December 2, 1940 Seattle police arrested French for grand larceny. French was denied bail and his trial set for the first of February 1941. French returned some $17,500 in missing funds, which included the Narrows premiums and monies from unrelated policies. His businessmen friends in Seattle begged the court for leniency on French's behalf. On February 7th, Hallett French got a version of Galloping Gertie's revenge. "Guilty," he pleaded, and the judge promptly sentenced French to 15 years in the State Penitentiary in Walla Walla.
French did have one bit of good luck. He served only two years, then was released for "good behavior." He soon found a job at a shipyard in Seattle. Then, the newspapers stopped caring about his career. According to Washington State Digital Archives, Hallett R. French died in October of 1968 in Seattle.
Charles E. Andrew (1884-1969)
He was a visionary engineer. And, he left an unusual, if somewhat controversial, bridge legacy to Washington.
As chief consulting engineer for the Washington State Toll Bridge Authority for some 20 years, Andrew guided construction of the first two Lake Washington Floating Bridges, both Tacoma Narrows Bridges, and the Hood Canal Floating Bridge. His admirers called him "a genius." His critics said he built "blow away bridges."
Born in Illinois in 1884, Andrew graduated from the University of Illinois in 1906 with a Bachelor's Degree in Civil Engineering. That year he moved to Oregon, where he began his career building railroad bridges. In 1921 he moved to Washington and until 1927 was a bridge engineer for the State Highway Department. Better opportunities drew him to Sacramento and the Bay area for the next decade. In 1931 Andrew became principal engineer for the San Francisco-Oakland Bay Bridge, leading design and construction on what was at the time (completed in 1936) the world's largest bridge.
A soft-spoken man with great energy, confidence, and determination, Andrew was a celebrity in engineering circles when he returned to Washington in March 1938. He immediately set to work on the Tacoma Narrows Bridge as chief consulting engineer. When "Galloping Gertie" failed in October 1940, some observers blamed Andrew. In fact, as an investigation soon revealed, he had fought hard against the cost-cutting design compromises that led to the bridge's collapse. The second Narrows span, designed to Andrew's standards and specifications, has withstood Northwest storms for over half a century.
Charles Andrew also led design of the Evergreen Point Floating Bridge. He accurately foresaw that growth of the greater Seattle area would soon put heavy demands on the bridge's capacity. Unfortunately, cost concerns forced construction of a bridge narrower than Andrew knew would be needed.
When the Hood Canal Floating Bridge partly sank in a 1979 storm, Andrew again became the mark of critics, although he had died ten years earlier. And, as before, the blame was unjust. Andrew had opposed the design compromises forced by budget limits, though whether these caused the bridge's failure is uncertain. When investigation revealed that the bridge might not have failed if pontoon hatches had been closed and not accidentally left open, Andrew's reputation began to regain its former stature.
Among Andrew's unrealized transportation visions were a tunnel crossing of Puget Sound from Alki Point to Bainbridge Island, a floating bridge to Vashon Island from Fauntleroy, and a large suspension bridge over Colvos Passage.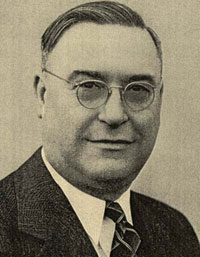 Dexter R. Smith (1891-1973)
In 1941 Charles Andrew, principal consulting engineer for the Washington State Toll Bridge Authority, hand-picked Dexter ("Dex") Smith to design the current Narrows Bridge. Smith had been a chief bridge design engineer for the Oregon State Highway Department.

Smith faced a daunting assignment. He had to plan a replacement suspension bridge to succeed the famous, and infamous, Galloping Gertie.

Smith was born in 1891 near Portland, Oregon. In 1914 he graduated from Oregon State University. He began his career as an instructor at the University, where he taught civil engineering until the end of the 1920s. In 1929 Smith moved to the Oregon State Highway Commission to design bridges for the next nine years. There he became a close associate of the well-known Oregon State Engineer, Conde B. McCullough, a recognized expert in short-span suspension bridges.

A colleague remembers Dexter Smith as a short man with a "feisty" temperament. Smith offered his students endless patience and a careful, guiding hand that helped them find answers for themselves.

Smith's accomplishments in structural bridge design earned him a growing reputation. While working as a private consulting engineer, he got the call from Charles Andrew requesting his help with re-design of the replacement Tacoma Narrows Bridge.

The talents that Smith brought to the 1950 Narrows Bridge job soon became evident. He led the State's design team through exhaustive testing, collaboration with University of Washington researchers, political hassles, and financial delays from 1941 through the successful completion of the current Narrows Bridge in 1950. The solid stability, durability and design strength of the span are testimony to Smith's skill and determination.

After 1950, Smith consulted as design engineer for a suspension bridge over Chesapeake Bay in Maryland. Then, he decided to return to his old job at the Oregon Highway Department. He also taught structural engineering at Oregon State University.

A former student of Smith's at OSU, Charles ("Chuck") Munson, worked under Smith at the Oregon Highway Department. Munson recalls Smith's involvement with the failed 1940 Narrows Bridge. He tells this fascinating story:

In the spring of 1940, only 6 months before Galloping Gertie failed, Smith presented a paper on the 1940 Narrows Bridge at a national engineering conference. Attending the session were some leading suspension bridge designers of the day, including Joseph Strauss, David Steinman, and the designer of the 1940 Narrows Bridge, Leon Moisseiff. Smith predicted that under specific conditions—a wind of 40 miles per hour striking the bridge's solid plate girder at an angle of 35 degrees—the bridge would collapse. When Smith finished, the stunned audience sat silent. Then, they rose to their feet, hollering at Smith and demanding he "get out."

Dexter Smith retired from the Oregon State Highway Department in 1957. He died in November 1973 at the age of 82.

<!- Global site tag (gtag.js) - Google Analytics ->