Tacoma Narrows Bridge history - Builders & neighbors - Children of the bridge
Builders & neighbors - Children of the bridge
What's here?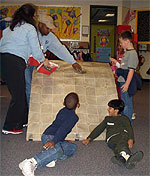 A bridge is for crossing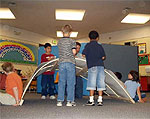 University Place first graders become Bridge builders in-training.
Earlier this month 100-first graders who live in University Place became bridge builders for a day.
The youngsters, who attend University Place Elementary, teamed up with staff of the Tacoma Narrows Bridge Project and experienced basic bridge-building concepts in a hands-on activity called, A bridge is for crossing.
One hundred boys and girls sat cross-legged in the "pod," a great room that anchors the school's five first-grade classrooms. Teacher Karen Koreis greeted the students, and they in singsong unison responded with a "Guh-ood MORN-ing."
"We're happy to see you all, and excited to teach you - and have you show us - what makes a bridge, a bridge," said Filiz Satir of the Narrows Bridge Project, who went on to introduce activity leaders John Heinley, David Smelser, Travest Story, Alla Dobrovidova, and Terrence Trent.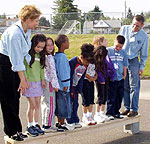 To start, we need to understand the job of bridge, said Satir, who asked: If you were a bridge what would be your job? At least 20 hands rose up; a particularly eager hand connected to a boy in a blue t-shirt caught her attention. And he answered: "To take cars and people from one place to another place."
So began the mid-June day in the first-grade wing of University Place. The youngsters took on bridge building with the eagerness of budding engineers. Each class took its turn rotating from one bridge station to the next. At one station, first graders became integral parts of a bridge, and at another they personified cars crossing a span. By doing so, they learned the differences and similarities between the three types of Bridge - the arch, the beam and The suspension bridge - and how such structures stay put, or not so put.
"Terrance (Trent) is the dad of one of our first grade students," said school Principal Cleo Farr. "He brought the idea to us. We were excited about it and thought it was a wonderful way to educate our children."
"A lot of the children here go across the Tacoma Narrows Bridge, " said Principal Farr, adding, "They (will) now have a good idea about how bridges are built …They need to know that bridges are built securely and (therefore should) feel safe crossing them."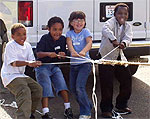 Satir recruited the team of engineers and other WSDOT staff into the unlikely project of educating first graders in bridge design. Earlier in the year and with fellow communicators, Claudia Cornish and Erin Babbo, she prepared a presentation for middle school students, believed to be one of the project's target audiences. Satir soon discovered that the requests for bridge presentations were coming from grade school teachers. She searched the Internet and books stores for material on bridges suited for primary grades, and quizzed co-workers for lesson plan ideas.
As it happened, synchronicity played a part in the first-grade project. Narrows Bridge communications manager found that other WSDOT employees had considered how to explain complex engineering principles to their children and other young people. In fact, the idea of creating a bridge-building activity for kids played on John Heinley's mind. The WSDOT environmental engineer took inspiration from one PBS program called "Building Big" and, in his spare time, tried out bridge activities in his children's classrooms.
"John was key to making this hands-on activity a success; he built the bridges and offered up great ideas," Satir said.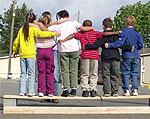 In early spring, the bridge communicator and the bridge enthusiast met and came up with a lesson plan and materials list. With list in hand, the two headed for a local hardware store, but quickly found that selecting the right materials was an exercise in creative thinking. Crafting the structures proved to be a bit more work. Over a couple of weekends, Heinley worked in his garage, building the rustic arch, beam and suspension bridges needed for the classroom. Using the hardware store purchases and his carpentry skills, Heinley built the bridges with linoleum flooring, pulleys, sisal rope, laundry rope, 2-by-4s, 2-by-10 planks, Concrete blocks, bamboo, and, of course, the sundry nails and screws.
B-day: Monday, June 14. The WSDOT team is ready to take the pilot lesson for test drive; no one knew for sure, how it would turn out. It began with 100 enthusiastic first graders ready to learn and ended with cake. In between, the youngsters took in a slide show with aerial photographs of the Narrows Bridge and new construction, photos of the three bridge types, and fun graphics simulating the pushing and pull forces that act on a bridge. From there, the University Place classes took turns rotating through bridge stations. First graders played the part of "abutments" on an arch bridge; they became cars and trucks crossing a beam bridge. They were mighty "anchorages" and "anchor frames" on either side of two bridge towers; they pulled on "cables" to keep the "deck" from collapsing.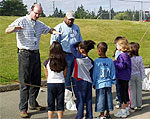 As their first day as bridge builders-in-training came to a close, the graduating first graders not only got to build their bridge, but eat it, too: As a reward, the WSDOT team served up a cake iced with an image of what will be the twin Narrows Bridges.
"One important thing about this is the hands-on learning they are getting here; students are able to participate and role-play," Principal Farr explained. "In the lessons, they learned math concepts, estimation, vocabulary words like 'deck,' 'support,' and 'abutment'. They learned physics from pushing and pulling, and heard about jobs people do like engineers, communicators, machine operators."
"(The children have been able) to see how it takes various specialists to build a bridge," Principal Farr said. You can teach any age level as long as you bring it to that age level's understanding. It's amazing to see how much they absorb even about complex subjects, they really are getting it."
Seven-year-old Ahlauna Draper had an extra reason to be excited during the "A bridge is for crossing" activity. Her father, Terrance Trent, was one of the WSDOT activity leaders and is a materials tester for the Narrows Bridge Project.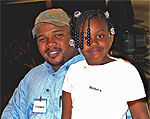 "That's my Daddy," Ahlauna said, proudly. "He builds big stuff; he knows all about bridges."

The five first grade teachers were impressed with the WSDOT team and the overall project.

"The children are enjoying this so much, they (will) take so much away from these lessons. People underestimate kindergarteners and first graders; they can absorb so much of this information," teacher Carrie Allen said.

At the end of the day, Satir stood back and looked on as six children turned anchorages pulled ferociously on the sisal rope cables.

"For the first time out, I think the activity has been incredibly successful; taking the bridge - or bridges as it were - to the community is outreach in the most literal sense," Satir said. "At the Narrows Bridge Project, it's our primary job to give residents and commuters information that allows them to better to cope with and live side-by-side with construction. It's also our responsibility to give back to those communities we're inconveniencing."

"You see, we're not only building a bridge of concrete and steel, we're building bridges, people to people."

<!- Global site tag (gtag.js) - Google Analytics ->