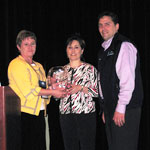 AASHTO-IS 2009 Conference Hosts
Judy Skeen, Vice Chair AASHTO Finance & Admin Subcommittee on Info Systems congratulates the 2009 Washington State Hosts; Grant Rodeheaver & Vonnie Diseth
AASHTO IS 2009
Washington State was the proud host for the AASHTO – IS Subcommittee 2009 Conference and Annual Meeting. AASHTO is the American Association of State Highways and Transportation Officials; the Information Systems (IS) Subcommittee Conference brings together senior level technology professionals and decision makers from transportation agencies across the United States and Canadian Provinces. AASHTO is the voice for transportation and the catalyst for organizational and technical excellence.
The conference was a huge success and we would like to thank our attendees for their participation. The AASHTO IS Conference was held May 3 – 6, 2009 at the Seattle Waterfront Marriott Hotel. The program was filled with great speakers with innovative ideas for the use of Information Technology in transportation agencies.
Next year's conference host state has not yet been determined. Please check the AASHTO web site in the coming months for the 2010 conference announcement (AASHTO Financial and Administrative Subcommittee on Information Systems.)

Thank you again for your support of AASHTO-IS 2009!