Tacoma Narrows Bridge history - Community connections - Tolling history
Washington's History with toll collections
What's here?
"Pay-As-You-Go"
The collection of tolls to fund transportation projects is not a new idea in the Pacific Northwest. In fact, "pay-as-you-go" financing is a practice that dates back to the Lewis and Clark Expedition: Traveling westward toward the Pacific Ocean, the Jefferson scouts often paid Native American tribes, in-kind, for their daily transportation needs.
Here in Washington, toll collection to financially support public transportation projects is not new, or unique to the Tacoma Narrows Bridge(s). When the 1940 Narrows Bridge opened the traveling public paid an 83-cent toll on average (50 cents a car, and 10 cents per passenger). Again, in 1950, motorists paid a toll – 50 cents – to cross the bridge. In fact, 14 bridges built by the state had been financed by bonds, with toll collection imposed to reimburse the cost, fully or in part.
In The Beginning
Before February 1933, Washington was among a handful of states that had never sold bonds to finance highway or bridge construction. With no debt, Washington had financed highways and bridges strictly on a pay-as-you-go basis. It had become difficult to accumulate enough money through gas tax revenue to finance all of the state's highway and bridge projects to support a rapidly growing population and economy. To meet the state's transportation needs, the 1933 Legislature authorized the sale of bonds to finance highway construction work. But bond sales still did not keep up with the demand for new roadways.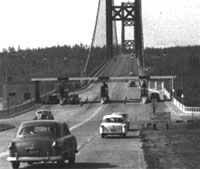 In Pierce County , officials began to consider the construction of a bridge to cross the Narrows. Replacing the inadequate ferry service between the Peninsula and Tacoma had become a necessity. Efforts to secure private funding to build a bridge never came to pass. In 1937, increasing public pressure compelled the Legislature to recognize the need for a Narrows bridge and other bridges. Lawmakers passed a law creating the Washington Toll Bridge Authority and gave it full power to finance, construct, and operate toll bridges.
This promise of a steady and reliable revenue stream, backed by the bonding authority of the State of Washington, resulted in the approval and financing of two very necessary bridges: the Tacoma Narrows Bridge (1940), and the Lacey V. Morrow Memorial Bridge (I-90) across Lake Washington.
As compared to the average 83-cent toll charged to cars and trucks crossing the Narrows Bridge, the toll collected on the Lake Washington Bridge was $.50 in 1940. The bridge toll between Pierce County and the Peninsula was cheaper than taking the ferry. When the first Narrows Bridge opened, the ferries charged vehicles 89 cents on average.
Galloping Gertie
When it opened, Galloping Gertie did indeed peak the curiosity of thousands: Revenue collected on the first day of operations totaled an astounding $11,541. The Narrows crossing held that daily record for 14 years until August 1964.
What The Future Holds
Future toll payers may be interested in knowing that the state collected tolls on the first two bridges in each direction. (That won't be the case when the 2007 bridge opens. It's a roundtrip toll paid on Peninsula side only.) Thus, a vehicle making a round trip would pay $1.66 in 1940, and $1.00 in 1950. If we equated those tolls in today's dollars, and adjust for inflation, that 83-cent toll in 1940 is equivalent to $11.23 in 2005. What is more, the $1.00 round trip toll collected in 1950 has the same purchasing power as $6.02 today.

The Washington Toll Bridge Authority maintained full authority to set the toll rates from their inception until it disbanded. As for the 1940 and 1950 bridges, it's not clear how much say the general public had in setting toll policy. As for the new parallel bridge opening in 2007, lawmakers have ensured that the public – through a citizen's advisory committee – will be heard as the state's Transportation Commission sets out to create toll policies for the 21 st century.

<!- Global site tag (gtag.js) - Google Analytics ->