Tacoma Narrows Bridge history - Community connections - Narrows Park
Narrows Park - Official Bridge Viewing Site
What's here?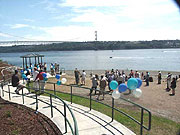 Celebration
Saturday, July 17, 2004, families, children and dignitaries turned out for a rededication and bridge ceremony at the new Narrows Park in Gig Harbor. The celebration came on the heels of a completed, year-long renovation of the park. Just a mere four miles west of the City of Gig Harbor, the park is situated on 1,200 feet of sandy-rock beach, and is the premier spot from which to watch new bridge construction.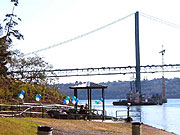 Environment
Harbor WildWatch!, a local marine conservation group gathered sea life, including crabs, clams and starfish so that children could examine the creatures in touch tanks.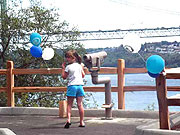 Entertainment
Dan Minter and the Almost Handsome Band, entertained the crowd by playing the "standards" of Horace Silver, Thelonius Monk and other jazz greats.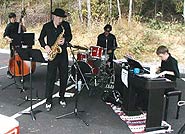 History
The Peninsula Historical Society with the help of the WSDOT-Tacoma Narrows Bridge Office created a photo exhibit called a Tale of Three Bridges. The Historical Society also held a drawing for seven individual prizes that included bridge postcards, a historical photo of Galloping Gertie, Two Tickets to the Top of the Bridge Tower.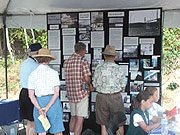 <!- Global site tag (gtag.js) - Google Analytics ->