Tacoma Narrows Bridge history - Community connections - 1950 to present
Bridge connections: 1950 – present
"Sturdy Gertie" has brought dramatic change to the area, and population growth has spawned the need for a new bridge.
What's here?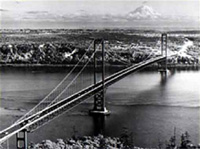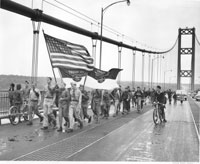 Opening Day for "Sturdy Gertie," October 14, 1950
On a brisk October day the $14 million 1950 Tacoma Narrows Bridge, labeled "Sturdy Gertie" by the newspapers and local promoters, opened to great fanfare. A large crowd, plus dignitaries, Governor Arthur B. Langlie and other politicians attended the gala event.
At opening ceremonies speaker E. L. Warner told the large crowd surrounding the podium, "You see before you a memorial to indomitable courage and will power, as well as a monument to vision, research, design and skill."
"A combination of men's dreams, fortitude, and inventive ingenuity," proclaimed the souvenir booklet published for the grand opening, "which with private capital has created a masterpiece of engineering skill together with the solution of a dire economic need."
Finishing details on the bridge took one more year. Not until November 1951 was the Narrows Bridge officially completed. Like its predecessor, the 1950 Narrows Bridge became the world's third longest suspension bridge. Today, it ranks 5th longest in the United States.
Comparison of 1940 Narrows Bridge with 3 other great suspension bridges of the era
Tacoma Narrows (1940)
Golden Gate
(1937)
George Washington (1935)
Bronx-WhiteStone
(1939)
Length of center span
2800 ft
4200 ft
3500 ft
2300 ft
Length of side spans
1100 ft
1125 ft
650 ft
735 ft
Ave wt of center span
5,700 lb./ft
21,035 lb/ft
31,590 lb/ft
11,000 lb/ft
No. of girders and type
2 pl. girders
2 trusses
2 chords
2 pl. girders
Depth of girders
8 ft
25 ft
36 ft
11 ft
Girder's moment of inertia
2,567 in ft
88,000 in ft
168 in ft
5,860 in ft
Wind force on floor and cables
620 lb/ft
1,330 lb/ft
1,500 lb/ft
920 lb/ft
Width of wind truss
39 ft
90 ft
106 ft
74 ft
Wind truss's moment of inertia
95,000 in ft
1,236,000 in ft
481,100 in ft
410,000 in ft
Relative vertical rigidity at quarter point
1.0
2.3
5.0
2.6
(without stays)
3.0
(with stays)
Relative torsional rigidity
1.0
4.2
14.1
3.0
(without stays)
4.4
(with stays)
Summarized from data in the May 8, 1941 edition of Engineering News-Record
The "Span stats" below shows the basic financing and construction data for both the 1940 and 1950 Narrows Bridges.
Finances & construction:
Current Narrows Bridge and 1940 Narrows Bridge Comparison
Financing
1940 Bridge
1950 Bridge
P.W.A. grant (1938)
R.F.C. loan – Revenue Bonds
TOTAL
$2,894,958
$3,750,000
$6,644,958
---
Bond Issue
$14,000,000
Final Cost
$6,618,138
$14,011,384
Tolls Removed
---
Oct-65
Time to Construct
19 months
29 Months
Tolls
Car and driver 75 cents one way; $1.25 roundtrip
Car and driver 50 cents one way; $1.00 roundtrip
A Popular and Successful Toll Bridge
The new bridge delighted area residents. First over the span on opening day (after ceremonies) was a truck driver "thrilled" to pay the toll. (He would have paid $7 more for the same trip by ferry.) The toll for a car and driver was 50 cents each way. Passengers were an additional 10 cents.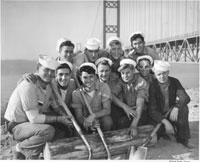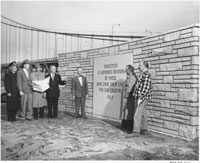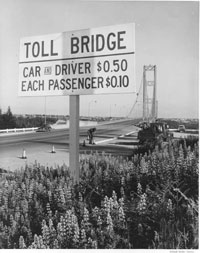 A "Living War Memorial Park" became reality in 1952. Civic leaders led a community effort to build the Memorial at the east end of the bridge. The steering committee included representatives from almost every civic, service, fraternal, and military organization in Tacoma.
On November 11, 1952, Armistice Day, dedication ceremonies for the memorial honored the sacrifices of Tacoma area military men and women. Volunteers did all the work to build the two-and-a-half -acre park. It included a grassy park and an 800-pound bronze bell. Farmers donated flower bulbs. Sailors from the nearby Naval base helped build a parking area. The Tacoma Bricklayers and Hod Carriers' Union built the 20-foot stone monument. The site was deeded to the city by the Young Men's Business Club, which had been given the property by Harold A. Woodworth.
The Memorial was removed recently for construction of the new 2007 Narrows Bridge. It will be replaced after completion of the new bridge.
The revenue collected on the first day of operations totaled a whopping $11,541.
Like Galloping Gertie, the new Narrows Bridge proved far more popular than expert traffic surveys had predicted. The average daily traffic count rose steadily through the 1950s and early 1960s. In its first months (October-December 1950), the toll span averaged 3,904 vehicles a day. By 1955, the number was up to 4,699 a day.
By 1960 traffic averaged 6,218 vehicles a day. Over the next five years it almost doubled, reaching 11,267 a day (4,112,455 a year) in 1965.
Total revenues now stood at $19 million. This was substantially beyond the construction bond issue of $14 million. Citizens anxious to see the tolls removed finally convinced politicians that the time had come. In 1965 a bill to remove tolls from the Narrows Bridge passed the State Legislature.
On May 14, 1965, jubilant bridge users celebrated. At a festive ceremony at the Narrows Bridge toll plaza, Governor Dan Evans signed legislation (which became RCW 47.56.271) removing tolls on the span. This came 13 years ahead of schedule—resounding proof of the bridge's value and popularity. Soon, workmen removed the toll booths and gates. The toll houses remain at the south end of the span. Since then, the Narrows Bridge has been owned and maintained by Washington Department of Highways, and its successor the Washington State Department of Transportation (WSDOT).
Impact on Tacoma, the Peninsula and Gig Harbor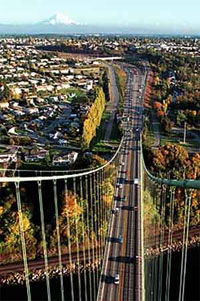 The 1950 bridge opened with cheaper fares than those charged by the ferry system. Tacoma residents and commuters to the Peninsula were glad to see the end of ferry service. But, in 1965 not everyone was excited to see the tolls end. Some Peninsula residents feared that removing tolls would prompt a virtual "invasion" by newcomers to their small communities. They fought to keep the Narrows Bridge as a toll span, but they were not successful.
Like its predecessor, Galloping Gertie, the 1950 Narrows Bridge became a vital link between Tacoma and communities on the Peninsula. Traffic growth clearly reflects the increase in population, tourism, government facilities, and commercial opportunities over the last 5 decades. By 1970 the daily average number of vehicles climbed to 21,164. A decade later it had doubled. By 1990 the daily count was 66,573. In 2000 over 32 million cars and trucks a year were crossing the bridge, averaging 88,000 a day. Now, on some of the heaviest days the daily count hits 120,000 vehicles.
Traffic congestion is a regular problem. Rush hour, accidents, and stormy-rainy weather create bumper-to-bumper traffic jams that back up for miles. The two tables below tell the story dramatically in raw statistics.
Traffic 1930-2000

| Year | Vehicles Annual | Vehicles Daily Average |
| --- | --- | --- |
| 1930 ferry | 171,993 | 471 |
| 1935 ferry | 165,724 | 454 |
| 1939 ferry | 205,842 | 564 |
| 1940 bridge | 265,748 | 1,661 |
| (July 1- Nov. 7) | (average 66,437/mo.) | |
| 1940 ferry | 144,587 | 396 |
| 1945 ferry | 480,009 | 1,315 |
| 1950 ferry | 593,871 | 1,627 |
| (Jan. 1 – Oct. 13) | | |
| 1950 bridge | 280,464 | 3,904 |
| (Oct. 14 - Dec. 31) | | |
| 1955 | 1,715,135 | 4,699 |
| 1960 | 2,269,570 | 6,218 |
| 1965 | 4,112,455 | 11,267 |
| 1970 | 7,724,860 | 21,164 |
| 1980 | 14,225,145 | 38,973 |
| 1990 | 24,299,145 | 66,573 |
| 2000 | 32,120,000 | 88,000 |
Population growth, Tacoma & nearby towns, 1940-2000
Year
Tacoma (1)
Gig Harbor (2)
Bremerton (3)
Incorp. in 1946
1940
182,081
770
44,387
1950
275,876
803
75,724
1960
321,590
1,094
84,176
1970
411,027
1,666
101,732
1980
485,643
2,429
147,152
1990
586,203
3,236
189,731
2000
700,820
6,465
231,969
(1) - Tacoma ""Principal Metropolitan Statistical Area" includes parts of Pierce County.
(2) - Gig Harbor was incorporated in 1946, at which time its population was 770.
(3) - Bremerton "Principal Metropolitan Statistical Area" includes parts of Kitsap County.
Historic Ruins of Galloping Gertie
Today, from the bottom of Puget Sound Galloping Gertie continues to hold a special place in history. In 1992 the remains of the 1940 Narrows Bridge were nominated to and placed on the National Register of Historic Places, as well as the State register. The effort was unprecedented. It was the first register nomination to use sonar imagery.
The nomination summarized Gertie's significance: "The collapse of the Tacoma Narrows Bridge was a hallmark in the history of bridge design and civil engineering. Its impact is still felt in the profession today. The bridge's remains at the bottom of Puget Sound are a permanent record of man's capacity to build structures without fully understanding the implications of the design and the forces of nature."
One of the driving forces behind the effort was Robert (Bob) Mester, President of Underwater Atmospheric Systems, Inc. (UAS). Using sonar soundings, Mester and his UAS experts charted the resting places of the center span and other debris from Gertie's collapse. The site plan and other information developed by UAS added vital data to our knowledge of the bridge and to its official recognition as one of the country's great historic treasures.
This effort contributed to the 30-minute documentary "Gertie Gallops Again," produced in 1991 by Tacoma Municipal Television and aired on its "CityScape" program series. That year the film received the 13th Annual Award For Cable Excellence (ACE Award).
Gertie Today - Environmental Asset, Thriving Ecosystem
Today, Galloping Gertie is becoming better known as one of the largest man-made reefs in the world. The environmental significance of that label is taking on new meaning almost daily. The abundance of marine life that thrives among the ruins is one of Washington State's greatest assets. But, it is a fragile ecosystem.

Before Gertie, the Narrows floor offered a unique habitat. Treacherous currents swept through the channel four times a day, scouring the bottom. The dropping of 600-ton anchor blocks in 1939 began to change that. When Gertie collapsed, the massive girder sections, concrete rubble, and half-mile of roadway changed the natural environment. The debris created a haven from the swift tides.

A rich diversity of marine life makes a home among the ruins and the surrounding Narrows. You'll find anemones, sea stars, mussels, piddock clams, flatfishes, and barnacles. The bridge rubble provides greater living spaces for rockfishes, sculpins, lingcod, wolf-eel, and surf perch. The Narrows is a natural migration corridor and feeding habitat for a great variety of fish and shellfish species. There are salmon, dogfish shark, skates, cod, sea lions, black rockfish, crabs, the tiny Pacific sand lance, diving birds that plunge to a depth of 140 feet, and one of the largest octopus species in the world.

The old span, looming ghost-like in the dark currents of the Narrows, is both a historical artifact and a living environmental legacy.

<!- Global site tag (gtag.js) - Google Analytics ->