Elevation:
3022 ft / 921 m
Temperature:
58ºF / 14ºC
Conditions:
Rock blasting is scheduled Thursday, July 30 at 8 p.m. and is expected to last one hour or more. During blasting closures, crews will close I-90 in both directions between Gold Creek (milepost 56) to Price Creek (milepost 61). During closures, there are no services eastbound past milepost 53, near the summit, and westbound past milepost 70, near Easton.
Weather:
Restrictions Eastbound
No restrictions
Restrictions Westbound
No restrictions
Updated: 9:05 PM, Jul 29, 2015
This is the most current info available and is promptly updated when conditions change.
Snoqualmie Summit on I-90 @ MP52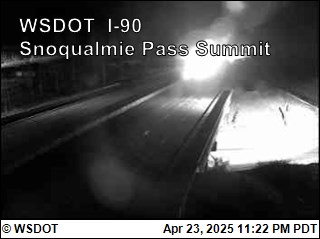 Franklin Falls on I-90 @ MP51.3
East Snoqualime Summit on I-90 @ MP53
All Snoqualmie Cameras